I'M HEAD OVER HEELS FOR THIS INTIMATE ELOPEMENT ON THE BIG SUR CALIFORNIA COAST LINE!
Where to even begin on how wonderful this day was! WOW.
First, let me start with a little heart to heart.
Elopements are something special. No, they are not for everyone, but if you feel in your heart that maybe this might be for you – DO IT. They are incredibly special and intimate. I have nothing but good things to say about saying your vows in a quiet and special place.
So, story time.
I had never met CJ & Sarah before this day, all we'd had were strings of excited emails back and forth. But, wow wow wow do I absolutely ADORE them now!! Witnessing such a sacred space and moments they shared truly connected my heart to their story. I am so incredibly honored that they chose me to capture this marker in their journey. As they said their vows on top of the California Big Sur bluffs, I definitely was sniffling way too much and wiping away tears during – it was absolutely breath taking to savor all those feelings for them! The wind was calm, there was not another person in side, the ocean was peaceful before, and the mountains were layered with the perfect amount of fog. IT WAS SO BEAUTIFUL IN EVERY SINGLE WAY POSSIBLE!
Ok, now that I just poured my heart out (I'm not crying, you're crying)! Let me tell you a little bit about this amazing wedding day!

They're day started off at a beautiful Airbnb up in the Carmel Valley hills on a gorgeous horse farm! They were SO CHILL, I loved it!! The atmosphere was all about being present and just soaking up each minute as it went – my kind of people! After they getting ready and having their first look (ALL THE FEELS), we all drove out to the Big Sur coastline!
We climbing up a hill covered in yellow flowers to the very peak of the bluff where you could see for miles and miles down the California coast! They said their vows and had their intimate ceremony high above the ocean.
We spent the rest of the late afternoon driving down the coast, exploring flower valleys, climbing up jagged ocean rocks, chasing waves, and champagne cheers-ing! It truly was a magical elopement!
The day ended back at their Airbnb with a fire pit, the most delicious cake (yeah they shared <3 <3 <3), and a sweet first dance to a mixture of music and frogs croaking in the pond. ;)
Ahhhhh, it was such a special day.
I'm beyond grateful to have been their photographer. My heart is so full.
xx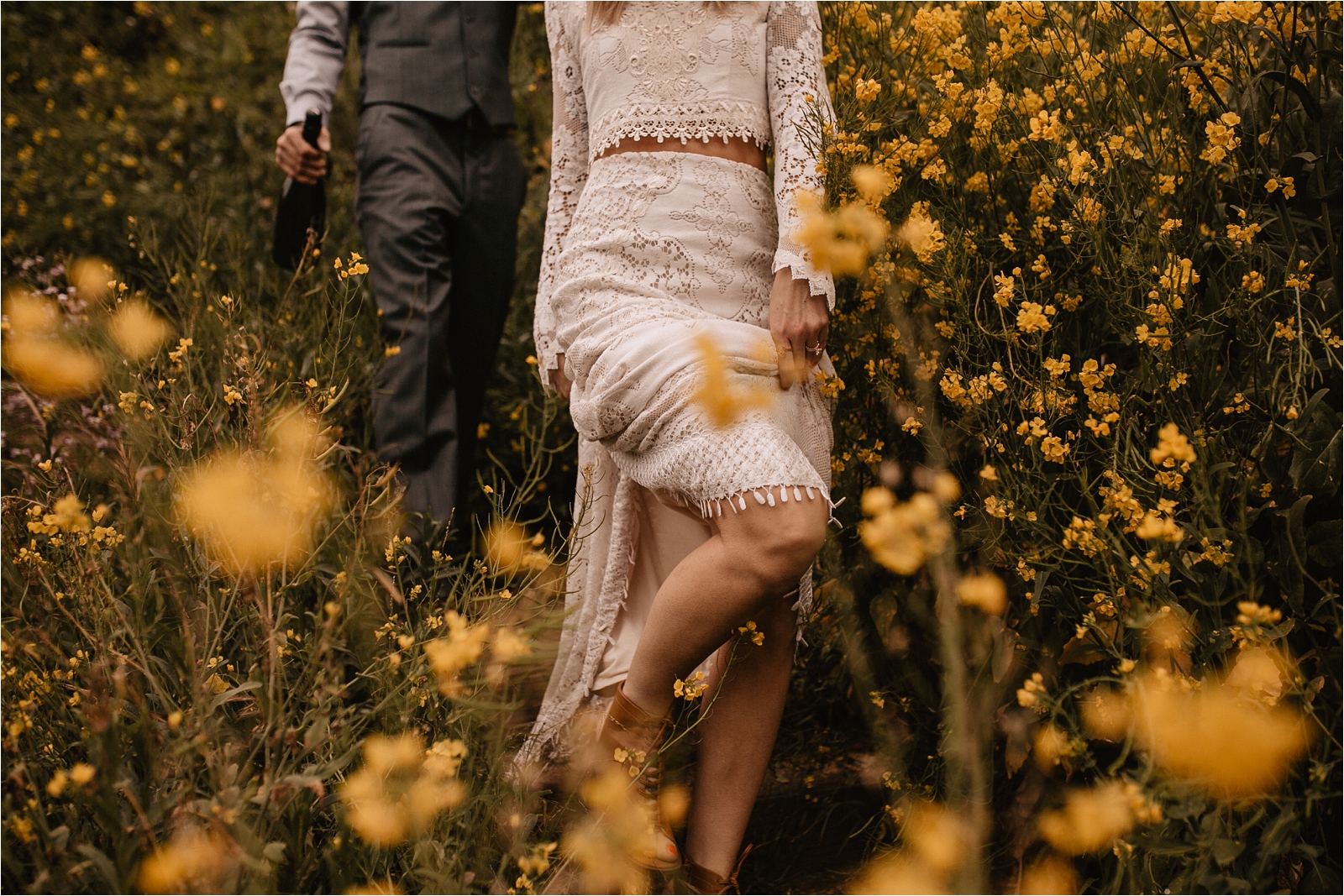 THINKING OF ELOPING? CHECK OUT MY TRAVEL BUCKET LIST FOR SOME RAD IDEAS!
MORE ADVENTURE ELOPEMENTS...